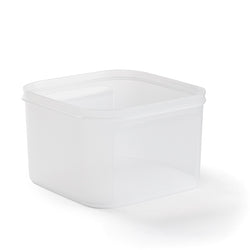 MODULAR MATE SQUARE 2 BASE ONLY 1620 (SPARE PART)
or make 4 fortnightly payments of $5.50 with More

or from $10 a week with
SPARE PART ONLY: Tupperware's premium quality Modular Mate base only. Suitable for use as a repla... Read more
Your Consultant
Help save you time, money & waste.
Provide tips to get the most out of your products.
Keep up to date with the latest products.
Plus, you'll be helping local independent business
Find a consultant
SPARE PART ONLY: Tupperware's premium quality Modular Mate base only. Suitable for use as a replacement part for our Modular Mate Square 2 Food Storage Container.
Square #2 Base Only
Holds 2600ML
Mold #1620
Please allow for up to 7 business days for your order to be dispatched from our Melbourne facility. 
Delivery charges calculated at checkout. 
If your product is faulty, you can return your product within 30 days to receive a free replacement product.
Click here for our full shipping & returns policy.
Fantastic
Love the mini modular mates
Excellent spare part
I found a heap of lids in storage so I bought a few square bases to fit. I didn't think they would be that useful but they have revolutionised my kitchen! I am using them to sort and store cake decorating items and lying them on their side to fit into my drawers - it is so handy, neat and easy to find things now without having to empty to drawer and go searching.
Great for everything
I use this size container for so many things, I have several of them and a few years back I bought some different coloured lids to change it up. As I had spare lids when I received a voucher for a warranty item that was no longer made I decided to buy a base for my spare lids.
Love the fact I can buy spares
I had some lids but lost a few bases when I moved. I was so happy when I found out I could buy just the bases!